SLB: 1.5 – Themes and Speed
A new day, a new update for Simple Lightbox.  The main attraction of this update is support for custom themes.
This latest release has one additional theme– "Black". I spent less than 5 minutes creating this theme (graphics and all), so it is a good example of how easy it is to do.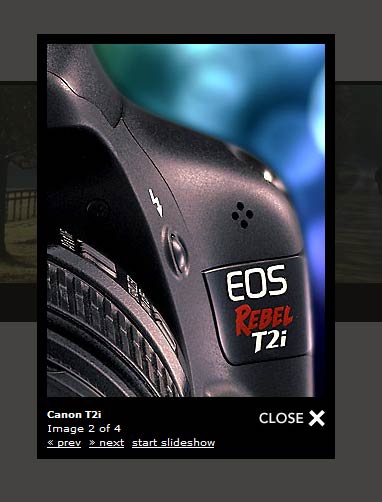 Activating this theme (or any other) on your site is as simple as selecting it from the list of themes on the settings page in the admin dashboard.

Themes for Simple Lightbox can now be easily added by anyone.  I'm going to write a proper tutorial on how themes are created and registered, but for now, take a look at yesterday's post for more information on how to create themes for Simple Lightbox.
Reflection
I was thinking about it yesterday, and I noticed that most lightboxes (whether for WordPress or not) have a singular "look".  Many have a similar look to Simple Lightbox's default style, while others deviate somewhat.  What's really nice about this update is that users no longer have to choose from one of these looks– as SLB is able to match the look of any WordPress site.
The reason I created SLB was because I spent so much time evaluating all of the different lightbox scripts out there.  I liked the look of some, but they didn't have the functionality I wanted.  SLB was created to provide the best of both worlds.
Clear Focus
After these recent updates, I decided to focus on making Simple Lightbox the first purpose-built lightbox for WordPress.  As development continues, I will be integrating functionality that will work with WordPress and help to make user's sites work the way they want it to.
In the future, more may be coming, but I'm actually more curious about what the community creates.  Theme builders now have a small and fast lightbox that will fully integrate with their theme.  Businesses using WordPress for their site can replace a cookie-cutter lightbox with one that helps to extend their brand and identity.  The potential for this feature is exciting.